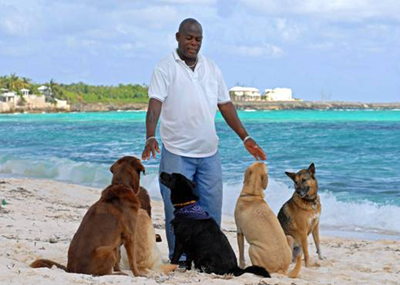 Kenneth Morgan has been training dogs for over 35 years. Although Kenneth grew up with dogs (his mother trained them) his career began in 1982 when he was employed at a security company in Jamaica teaching security dogs, search & rescue and basic and advanced obedience.
In 2001 Kenneth moved to Grand Cayman where part of his duties involved teaching classes, with groups of sometimes ten or more dogs, at Cayman Pet Paradise, a dog-training and boarding facility.
In 2006 Kenneth became involved in the company, Cayman Canine Training Services, where he continues his important work with personalized one-on-one and group training for both puppy and adult dogs.
Kenneth provides his skills in dog assessment and behavioral consultation, and he is the dog trainer for the very popular Beach Training Programme where dogs are brought to the beach for some training and playtime.