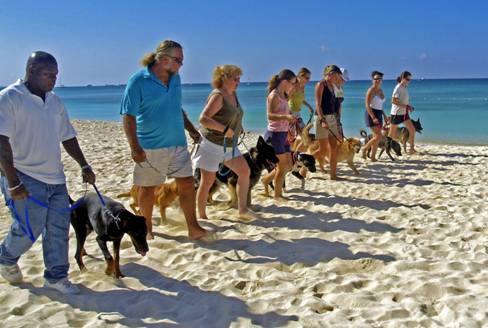 This free program was created by Kenneth Morgan and a fantastic team of volunteers over 10 years ago. The beach training is primarily designed for dogs in the care of local animal charities, such as those living at the Cayman Islands Humane Society Shelter.
Every Sunday morning at 11:00am volunteers meet at Public Beach (by Calico Jacks) with a dog they bring from the animal shelter. Selected animals can be brought to the beach and returned to the shelter (Van Transport) with advance coordination.
Kenneth teaches volunteers and their dogs the basics in training. This in turn provides the dogs with a great opportunity to get a break from shelter life, assists with socialization both with new people, situations and other dogs. Ths training also increases the exposure of adoptable dogs within the community.
In this relaxed environment, dogs learn valuable basic commands to improve their levels of adoptability, which can also help the dog transition into their new home when adopted. Training lasts for about an hour (with a beach break).
Volunteers are responsible for picking up after their dog and having them under their control (on leash) at all times. No experience needed, as Kenneth is there to guide and assist with all aspects of obedience and training challenges.
For individuals who have dogs of their own and who would like to bring their personal dog to enjoy this relaxed, social setting for basic obedience training, please contact Kenneth directly at +1 (345) 916 2075 for details on special rates.
For further information on bringing a shelter dog to this free, volunteer training, please call the Humane Society at 949-1461 or Register
Watch the YouTube video