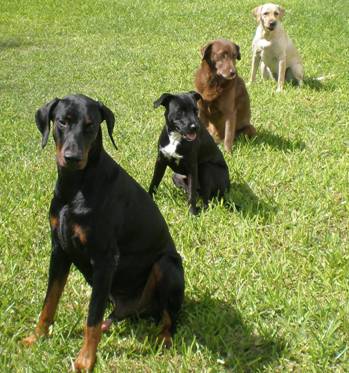 One-on-One Behavioral and Obedience Training
Cayman Canine Training Services offers individual training sessions based on your dog's requirements, be it general training or a specific behavioral problem that needs correction. For a consultation please call Kenneth Morgan at 916-2075 or e-mail dogtrainer@candw.ky. Private one on one hourly rate is CI$70.
Beginners Training
Group training provides basic training and socialization skills for your dog in a small group setting (between 6 and 10 dogs). Classes are held Sundays at 8:00am for a total of 12 weeks. At the end of the training course all dogs are tested and graduating dogs are awarded a Certificate of Achievement. Cost for the full training course is CI$360. payable in advance or at the first training class.
New courses begin quarterly. Basic obedience classes will start Sunday, 22 August, 2021 - Limited Spaces are available for those who wish to join. For our next training class, Click Here to Register and arrange payment.
Intermediate and Advanced Training
Once your dog graduates Beginners training you can keeping building on the foundation with intermediate and advanced training (please contact Cayman Canine Training Services for further details).
Dogs Rule Book
Your dog must be on leash.
Your dog must be treated for fleas and ticks and be up to date with all vaccinations including Bordetella vaccine (for the prevention of kennel cough).
You will need to pick up after your dog in the training facility, so please remember to bring disposal bags for cleanup.
You and your dog will have fun and strengthen your relationship, in addition to the training.
Training will be held at Cayman Pet Paradise unless otherwise advised. Cayman Pet Paradise is located at 46 Ranch Road - if you are going east on Shamrock Road turn left at Hirst Road (just slightly past Countryside Shopping Centre) and then your 2nd left turn on to Ranch Road. If you are coming from the by-pass it is the 1st right turn on to Ranch Road.